Description
Introduction
A transducer is a device that converts the electric parameters (such as current, voltage, power, frequency, power factor etc signals) into the direct current, direct voltage, and outputs the analog or digital signals with isolation. The international standard for analog signal output current of the new-type transducer is 4-20mA. It is widely used in two-wire loops such as data transmission, and the control of actuators which can easily accept the work instruction based on this standard.
According the parameters to measure, there are different types of transducers such as current transducer, voltage transducer, power factor transducer, active power transducer, inactive power transducer etc. Transducers can also be classified as analogue and digital output transducers. Digital type can output more data than analogue one.
Compared to analogue one, digital value has a stronger anti-jamming capability, especially for the digital signals transmitted through fibers which can be totally exempt from the loss and interference during transmission, so it is good for the high-precision measurement under the complex electromagnetic environments.
In order to meet the market demands, we can provide voltage transducers, current transducers, Hall sensors, leakage current transducers, power /frequency transducers, temperature transducers, out-of-limit alarm transducers etc.
Single phase AC current transducers AD-AI-A2
Features
Isolate and convert single-phase AC current into standard DC voltage or DC current outputs in linear proportion
Excellent anti-interference ability and high precision(0.5%)
Cable input thru aperture, standard guide-rail (35mm) mounting
Rotation detector head for different angle cable installation
Widely used in various industries for online current measuring
Dimension (mm):95(L)×37(W)×88.5(H), aperture:20mm
Specs
Standards: GB/T 13850-1998,IEC688:1992
Input Range: 0~150A, with 0~10A,0~50A etc for options
Accuracy class: ≤0.5%.F.S
Temperature Characteristics: ≤100PPM/℃(0~50℃)
Power Consumption: ≤30mA+output current
Insulation voltage (input/output/housing) :AC2.0KV/min*1mA
Insulation resistance: ≥100MΩ(DC500V)
Response time: ≤300mS
Working Environment:-10℃~50℃,20%~90% without condensation
Storage Environment:-40℃~70℃,20%~95% without condensation
Model Coding

A—output  
3:0~5V
4:0~20mA
5:4~20mA
6:1~5V
7: two-wire system 4-20mA
8:0~10V
F: OC frequency signal output
T:Special output

Example model: AD-AI12-54A2-0.5/0~5A
Example model specs: Input current range: 0-5A, 4-20mA, Power supply: 24 V, single-phase AC transducer, A2 style type

                                  

B__ power supply
2:12V±10%
3:15V±10%
4:24V±15%
C__input current range
Outline structure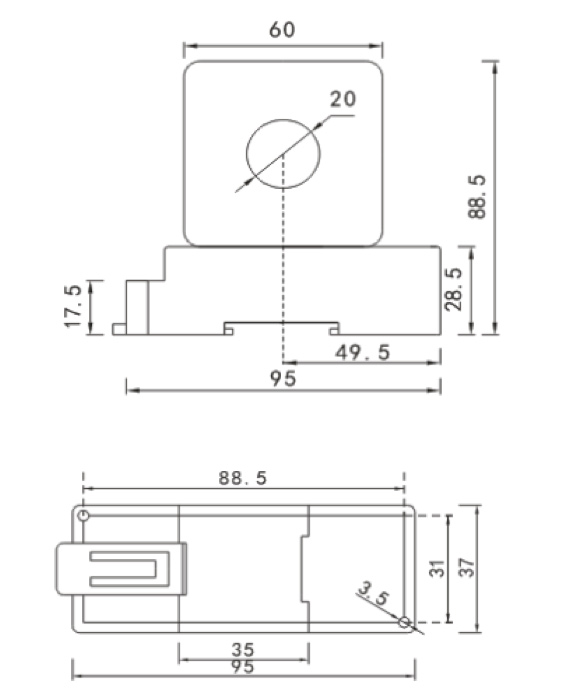 Wiring and application