Description
VPIS for M.V. cubicles
DXN series of voltage presence indicating system (VPIS) indicates the voltage presence on M.V. cubicles by being installed on the capacitive dividers.
The interlocking indicator must work with the live voltage presence indicator (DXN2-T) for lock indication and interlocking signal output. It can't be used alone. When working with DXN2-T, the indicator can output interlocking signals to the electromagnetic lock to automatically lock up the switch handle for preventing mis-operation and locking out people from entering the charged areas.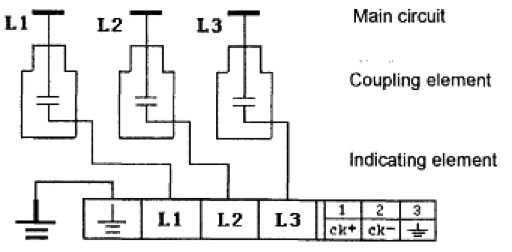 Product Features
Must work with the live voltage indicator ( DXN2-T) to realize the functions of interlocking indication and interlocking signals output to the electromagnetic lock for auto lockout;
Wide-range 3kV- 40.5kV
Working frequency 50/60Hz
Temperature range -25°C to +40°C
Insulation strength: AC 2kV, 1min
Product dimensions (L×W×D) 96x49x95mm
Technical Parameters:
Executive Standard
DL/T538-2006
Working Frequency
50Hz/60Hz
Interlocking Relay Output Contact Capacity
10A/250V AC
10A/30V DC
Auxiliary Power Supply
DC24V、DC48V
AC/DC 110/220V
Working Temperature
-25℃-+40℃
Working Humidity
<95%
Insulation Strength
2kV,1min
Overall Dimension (WxHxD)
96x49x95 mm
Mounting Dimension (WxHxD)
92x45x87 mm
Shielded Cable Length
1.9 m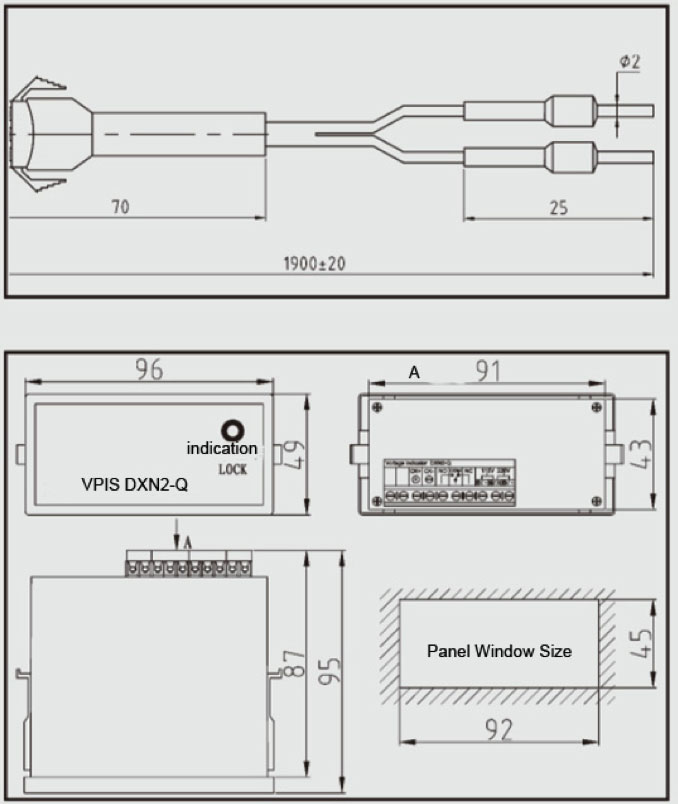 Wiring Diagram

Marks
Definitions
       
Earth Terminal
CK+
The positive red cable terminal for interlocking signals input.
CK-
The negative green cable terminal for interlocking signals input.
NO
Normally-open contact for the interlocking signals output.
When the phase is live voltage present, NO and COM will be disconnected.
COM
Common contact for interlocking signals output.
NC
Normally- closed contact for interlocking signals output.
When the phase is live voltage absent, NC and COM will be disconnected.
⊕/~
DC 110V positive terminal or AC 110V live terminal of auxiliary power supply
Θ/N
DC negative or AC neutral terminal of auxiliary power supply
⊕/~
DC 220V positive or AC 220V live terminal of auxiliary power supply
Ordering Information