Description
Motorized operating mechanisms AD DC 3 – S / AC220
In general
ADDC series of motorized operating mechanisms can be used in various M.V. switchgears and ring main units. It can store  energy for make-and-break of circuit breakers with motorized functionality. The system consists of motor, gear driving device, control unit and wire plug-in unit.
Remote/local switching and local make-and-break of switches
local and remote indication of the status of load switches, earth switches and fuses
Plug-in type of wiring makes it easy for on-site installation
Naming
AD DC 2 – A/ AC220
AD—Andaxing products
DC– motorized operating mechanisms
3—design number
S– applicable module
AC220—rated voltage
Technical Data
ADDC3 series are applicable for modules of ABB safe cabinets. The main components are all from international famous brands and the structural parts are all made of superior materials. This series of products have been supplied to ABB for a long time.
Rated Voltage

(VDC)

Rated Power

(W)

Rated Current

(A)

Rated Speed

(r/min)

Rated Torque

(N.m)

Working Temperature(℃)
     220

50

    0.60

22

0.20

-40~+40

     110
    1.2
     48
    2.5
      24
    5.0
Application area
ADDC3-S: Simosec and 8DJ10/20 cabinets
Application examples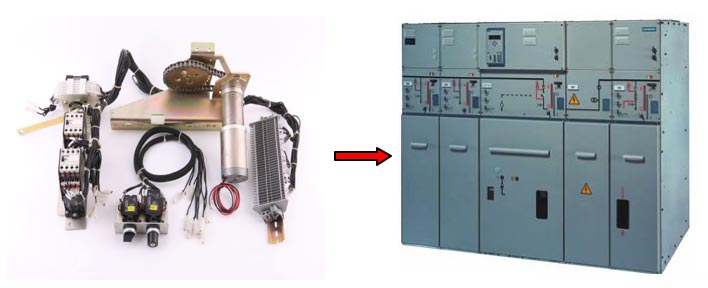 ADDC3-S motorized operating mechanism is used in Simosec and 8DJ10/20 cabinets